10 Best OpenVPN Alternatives You Should try | Tech Advice
10 Best OpenVPN Alternatives You Should try
10 Best OpenVPN Alternatives You Should try
OpenVPN is not just a VPN client but a standard in itself which brings new techniques to create secure end-to-end connections. It's no surprise that OpenVPN has become a leading security protocol and being implemented in many mainstream VPNs. However, its advanced features often confuse average consumers who can't seem to wade through endless settings. So if you looking for an easy-to-use VPN client then you have come to the right place. In this article, we have put together a list of 10 best OpenVPN alternatives which are mostly open-source and easy to set up. Now having said that, let's begin the article and find VPN clients like OpenVPN.
Best OpenVPN Alternatives
Here, we have mentioned 10 alternatives to OpenVPN keeping some broad points in mind. As mentioned above, most of them are open-source VPNs just like OpenVPN. Also, some of the clients are developed on OpenVPN security protocol so you will get the same protection, but in an intuitive interface. Also, we have mentioned
VPNs that work on Windows
, macOS, Linux, and even mobile platforms like Android (
check out our list of free Android VPNs
) and iOS. Moreover, we have included two easy to use VPNs at the end, in case you want to have a hassle-free experience with VPNs. With that said, let's now begin and explore the list without further ado.
1. SoftEther VPN
SoftEther VPN is one of the best alternatives to OpenVPN. It's because, just like OpenVPN, SoftEther is an open-source, multi-platform VPN with support for various security protocols. You can simply pick your choice of protocol and create a server as you wish. The unique part about this VPN is that it has been developed by a student of the University of Tsukuba as part of his Master's thesis. Slowly, the VPN became a huge academic project and students all over the world hosted servers to provide free and secure VPN service to everyone.
Besides that, another interesting bit is that it's built on OpenVPN's security protocol so you get similar security protection along with more advanced features. In addition, SoftEther VPN also supports L2TP/IPsec, SSL, and Microsoft Secure Socket Tunneling Protocol. So, if you want a VPN as feature-rich as OpenVPN and with state of the art security, SoftEther VPN is the best option you have.
Features: Open-source, Run by volunteers, Supports OpenVPN, IPSec, and more, Excellent security protection, Add servers, Personalize security settings
Platform Availability: Windows, Linux, Mac OS X, FreeBSD, and Solaris
2. Pritunl
The reason I have picked Pritunl as my second pick is because it offers a user-friendly interface which is rare among open-source VPNs. Sure, OpenVPN is more advanced, but if you are a beginner and want to create a personal VPN server then Pritunl is your best bet. First off, it's open-source just like OpenVPN, available on major platforms, and completely free. In terms of the underlying technology, it doesn't compromise either. Pritunl runs on OpenVPN's security protocol and also provides some degree of user management. You can import OpenVPN profiles, URI configurations and add servers directly. To put it straight, Pritunl is the most intuitive open-source VPN with a handful of core features. If it meets your demand, do check out Pritunl VPN.
Features: Open-source, User-friendly interface, Supports OpenVPN, Import OpenVPN profiles, Customize server
Platform Availability: Windows, macOS, Linux
3. Wireguard
Wireguard ranks among the best OpenVPN alternatives because it brings the best of both worlds: user-friendly interface and advanced security features. For starters, it's an open-source VPN built on SSH protocol. Many would argue that SSH is not as secure as OpenVPN's custom security protocol. However, Wireguard deploys additional cryptographic services such as Curve25519, Poly1305, SipHash24, etc to strengthen secure data exchange. All these features surely make Wireguard one of the most secure VPNs. In addition, Wireguard performs slightly better than OpenVPN because it uses simple SSL protocol to encrypt and transmit data. All in all, Wireguard is a great VPN and easily rivals OpenVPN in terms of both security and features.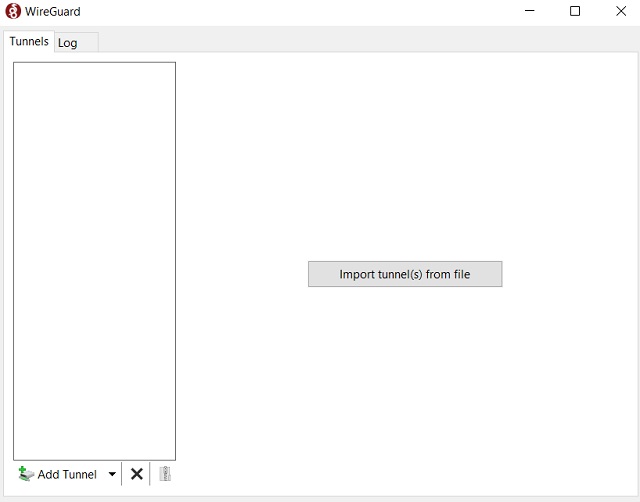 Features:
Open-source, User-friendly interface, Quite advanced, Supports SSH protocol, Additional cryptographic services, Better performance
Platform Availability: Windows, macOS, Linux, Android, and iOS
4. Tunnelblick
If you are looking for an OpenVPN alternative for Mac then you should go with Tunnelblick. It's specifically built for macOS and is compatible with Sierra, High Sierra, and the latest macOS Mojave. Just like OpenVPN, it's open-source and completely free. However, the best part about Tunnelblick is that it supports both OpenVPN and Apple's native security protocol. It will help you seamlessly connect to a VPN without eating much of your Mac's resources. In addition, you get a handful of options like server configuration, protocol check, IPv6 tunneling, and more. To sum up, if you want a VPN as secure as OpenVPN then Tunnelblick is of the best pick for macOS.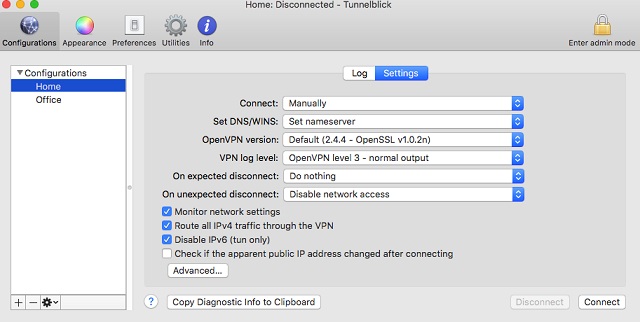 Features: Open-source, Best VPN client for macOS, Built on OpenVPN protocol, Compatible with Mojave, Server configuration
Platform Availability: macOS
5. strongSwan
strongSwan is another popular alternative to OpenVPN which is also open-source and completely free. While OpenVPN uses its custom security protocol which is a mix of SSL and TLS protocols, strongSwan utilizes the latest IPSec protocol along with IKEv1 and IKEv2 for exchanging keys. In terms of security, I would say strongSwan is not far behind OpenVPN given it also implements separate encryption protocols. Apart from that, strongSwan lets you add servers, customize security preferences, and supports virtual IP address to prevent tracking. To conclude, strongSwan is one of the best cross-platform VPNs with many advanced features and you should definitely try it once.
Features: Open-source, Runs on IPSec protocol, IKEv1, and IKEv2 Encryption, Virtual IP address, Customize servers
Platform Availability: Windows, macOS, Linux, Android, and iOS
6. OpenConnect
OpenConnect is an open-source VPN client for Windows, Linux, and its various distributions. In a way, it's one of the oldest VPN clients out there which is still in development. Earlier, it was built only for Linux as an alternative to Cisco's AnyConnect VPN client, however, with great support from the community, OpenConnect became a standard in itself for many VPN clients. You can say that it very much rivals OpenVPN in terms of open-source community support. Besides that, OpenConnect is built on SSL security protocol so that is great. As with features, you can implement your own server, encrypt data exchange, import server configurations and more. All in all, OpenConnect is a capable VPN client and you can surely give it a try, particularly if you are a Linux user.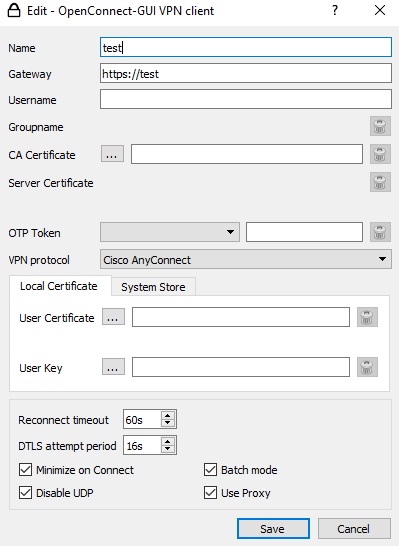 Features: Open-source, Great VPN client for Linux, Built on SSL protocol, Supports encryption, Import server configurations
Platform Availability: Windows and Linux
7. Tinc VPN
Tinc VPN is a powerful VPN daemon which certainly competes with OpenVPN, but it does not have a GUI interface. If you are a network administrator or proficient with command line then Tinc VPN can be a great tool to tunnel your network and make it private. Similar to OpenVPN, Tinc VPN is also open-source and totally free. It uses the newer SPTPS protocol which is said to have better performance. In addition, Tinc VPN deploys SVPN protocol which encrypts the data to protect your privacy on the internet. You can also manage various security configurations such as force-encryption, open-port checking, finding vulnerabilities, and more. To put it straight, if you are an advanced user and looking for a client like OpenVPN then Tinc VPN is certainly for you.

Features: Open-source, Best for advanced users, Built on SPTPS protocol, Encrypts data, Open-port checking, Excellent privacy protection
Platform Availability: Windows and Linux
8. Passepartout
Passepartout is a unique VPN in this list which is
specially developed for the iOS platform.
It's an open-source app having OpenVPN security protocol at the base. While OpenVPN has a dedicated app for
iPhone and iPad users
, many find it clunky and too advanced to use. However, Passepartout is aimed at bringing the same OpenVPN's technology, but with a nicer design and intuitive interface.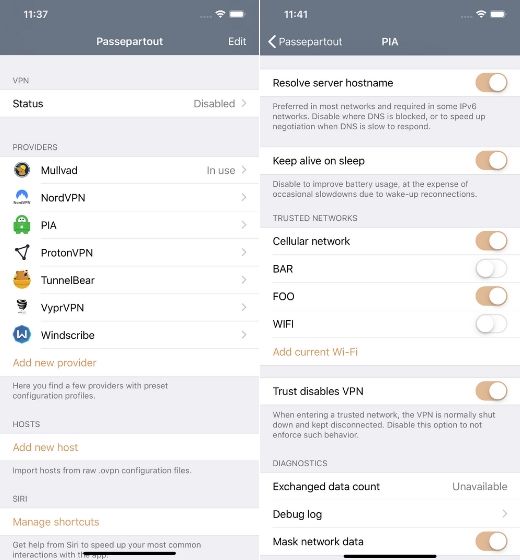 You can achieve all the things that you can do on OpenVPN but in an effortless way. For instance, you can add as many VPN servers as you want. It also takes advantage of various iOS features like Trusted Networks and Siri Shortcuts to automate many VPN features. In simple terms, you will be able to create a personal VPN on your iOS seamlessly using the OpenVPN protocol. And the best part is that it does not log your internet activity so no worries on the privacy front. Simply put, if you want an OpenVPN alternative for iOS, Passepartout is the app to get.
Features: Open-source, Best app for iOS users, Intuitive interface, Built on OpenVPN protocol, Customize servers, Supports core iOS features, Privacy protection
Best VPNs for a Hassle-Free Experience
In this section, we have included two VPNs which offer their own servers for a seamless experience. You don't have to find or manually add a server so that is great. With that said, here are the best VPNs you should try.
9. ProtonVPN
If you don't want to tinker with servers and just need a VPN for private browsing then ProtonVPN is the best replacement to OpenVPN. Unlike OpenVPN, ProtonVPN offers its own servers located in many regions around the world. The best part about ProtonVPN is that it offers a free plan with unlimited data. However, bear in mind, you won't get the best speed and the free plan is just limited to 3 countries.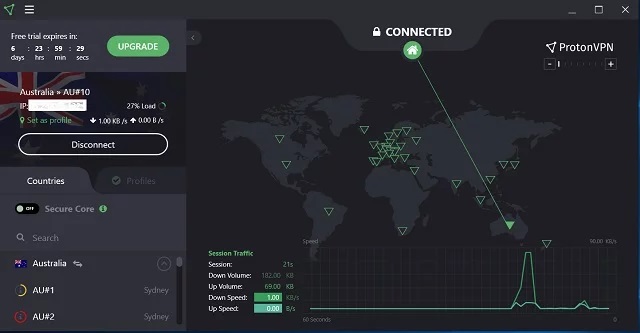 Nevertheless, in terms of security, it's among the best and easily comparable to OpenVPN. Since ProtonVPN is based out of Switzerland, you are protected by the strongest privacy laws in the world. Apart from that, it uses OpenVPN and IKEv2/IPSec security protocols to protect all your data exchange. It also deploys military-grade 256-bit AES encryption so your internet activity always remains protected. To sum up, if you want to protect yourself online then ProtonVPN is a great pick.
Features: Unlimited data, Easy to use, No activity logging, 256-bit encryption, Built on OpenVPN and IKEv2/IPSec protocols, Strong privacy protection
Platform Availability: Windows, Mac, Linux, Android, iOS
Visit Website
(Free, Starts at $4/month if charged yearly)
10. TunnelBear
TunnelBear is our final pick in this list which is very similar to OpenVPN in terms of security and privacy protection. It offers a free plan, under which your internet activity will not be logged and the speed will remain unaffected. However, there is a data limit of 500MB per month for free users. So, if you need a secure VPN for casual browsing then TunnelBear can be a great choice. Also, if you tweet to Tunnelbear, you can get 1GB of additional data so that is awesome. Coming to security, TunnelBear uses OpenVPN protocol on every platform except iOS where it deploys IPSec protocol. Nevertheless, on the security side, you are well protected with the industry-best protocols. Further, it protects your data with 256-bit encryption. So keeping all points in mind, if you want a hassle-free VPN experience, TunnelBear can be a great OpenVPN replacement.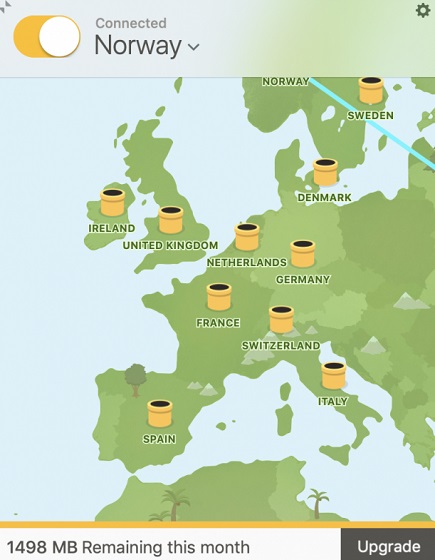 Features: One-click connect, 500MB under the free plan, No logging, No speed reduction, Built on OpenVPN and IPSec technology, 256-bit encryption
Platform Availability: Windows, Mac, Linux, Android, iOS
Visit Website
(Free, Starts at $4.99/month billed yearly)
Protect Yourself Online with the Best OpenVPN Alternative
So that was our list of 10 best OpenVPN alternatives. We have tried to include VPNs which are mostly open-source and offer top-notch security. Also, the mentioned VPNs have many advanced features ranging from server customization to open port checking. Depending on your preference, you can go ahead and pick a suitable VPN. So that is all from our side. If you liked our selection of open-source VPNs then do comment down below and let us know.